ABOUT US
Our Heritage

CED Environmental was originally established under the name Crockett and Associate back in 1948. With our heritage now exceeding 60 years we look back at the heritage brought to CED by its founder Professor Crockett, himself from a distinguished family history that could be traced back to 1485 as seen in the early beginnings of the family tree.
Prof. Jim Crockett was born in Northampton before the First World War. His father's untimely death at a time when Jim was very young meant that his welfare and education fell to his grandfather, Sir James.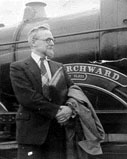 Fortunately Sir James Crockett was a resourceful, talented and highly energetic man as a Magistrate, Chairman of local hospitals and an industrialist who founded the shoemakers Crockett & Jones (who still manufacture in Northampton today) and importantly a great believer in education. So it was that Jim went to Oundle School, known for a science based education. Jim then studied at Imperial College, London, then and as now, a great centre for engineering, technology and science, before embarking on his career in civil engineering.
In his professional career he was honoured by appointment as a Visiting Professor for the United Nations, with significant contributions as expert for British and International Standards, and sought by industry to advise on some of the most complex engineering issues of the time. His energy, intellect and innovation touched and inspired many, and his passion to share knowledge won him admiration and respect.

Information