Vibration
Upper Thames Street Footbridge

| | |
| --- | --- |
| Project: | 2009 |
| Location: | London |
| Country: | United Kingdom |
| Sector: | Vibration Assessment |

Scope of Report: To factually present the results of vibration monitoring on Upper Thames Street Footbridge. The strategy of the survey was to measure the vibration simultaneously at a number of locations on the footbridge. Vibration measurements were undertaken using four Lance piezoelectric accelerometers. The accelerometers were magnetically attached to a heavy metal sonde or a right-angle metal bracket glued to a circular metal plate.
The measurement apparatus included a Nexus signal conditioner, PC card to connector interface and a laptop PC to measure and record signals from four vibration transducers. The four-channel signal conditioner provided filtering and amplification to the signal, and powering to the accelerometers.
The temporary cables were deployed between the accelerometers and PC based system. These cable runs were minimized, taped down and highlighted by hazard tape where appropriate to avoid trip hazards.
The conditioned signals were measured and recorded using Toshiba Tecra laptop PC with a National Instruments Data Acquisition PCMCIA Card installed. LabVIEW software and a bespoke data acquisition program were used to manage the data acquisition.
The sampling rate used for four simultaneous channels was 1280 Hz. The length of each sample was 40 seconds. These raw time histories were post-processed using Matlab software to gain detailed information about the magnitude and frequency content of the signals.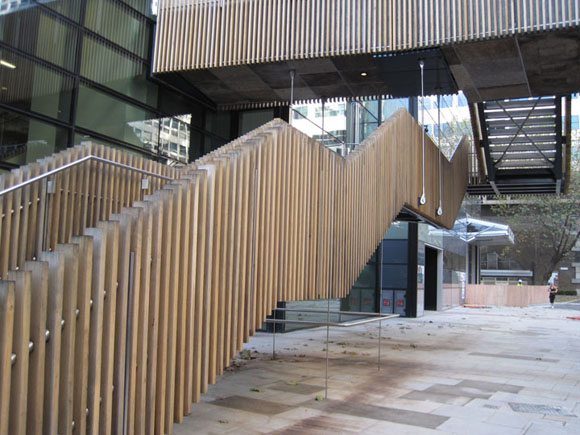 Related Projects