CED Innovation
CED SkyGRID ©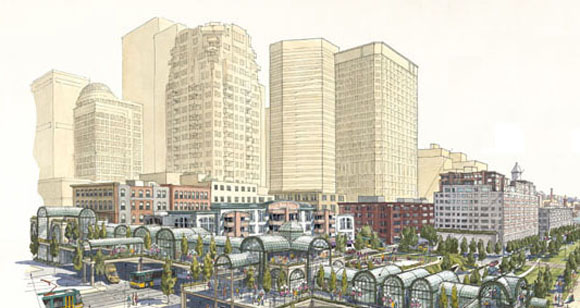 CED SkyGRID is an elevated walkway network that connects disconnected urban islands together. They separate pedestrians from vehicular pollution and link together the built environment. They also allow a continuous flow of movement without interruption from vehicular traffic and traffic lights. Elevated networks provide a sense of security and comfort as well as protecting people from the extreme hot climate.
We have taken for granted that the extreme heat of summer makes business and tourism levelís drop significantly in some parts of the world. It turns out that people are forced to use cars even for the shortest journeys. Yet a lot of the desired destinations are walking distance, for example from home to office, or office/home to a place of lunch, shopping, etc.
CED SkyGRID is a tubular structure that follows the main grid roads. The tubular walkway, elliptical in section, would be created on the central reservation, above at circa 10m height. It will then interconnect as bridges above road level with adjacent buildings that pay a subscription to join the Elevated Walkway grid.
CED SkyGRID would also at intervals touch down to pavement level on both sides, providing connections to major densities of retail areas. Significantly it would also tie in with the location of proposed Metro and Tram Stations of the future. Thereby pedestrians leaving the station could join the Elevated Walkway and walk to their prime office location if it were on the grid, or get to the nearest pavement level exit to their place of work or home.
A very important element of this proposal involves a network of the Elevated Walkway that is servicing a shopping mall that becomes a hub of that network. Because such pedestrian access to the shopping malls will increase footfall numbers, and therefore revenue for the retail outlets, it would justify a levy on the rents. That way the shopping mall could pay towards the cost of the Elevated Walkway network.
CED SkyGRID would be fitted with airport style long travelators, to ease the walking for those that prefer the journey to be more leisurely. It could mobilize cross ventilation as a passive system, exploiting pressure differences by virtue of aerodynamic design and be air-conditioned on climatic extremes. The long running structures could even exploit parabolic mirrors to heat water pipes to serve certain uses and there are opportunities to power systems with its solar cell cladding.
It will contain advertising opportunities, and in certain areas vending machines and coffee kiosks. Perhaps we could consider modest ticket charges, as it would be a viable transportation network.
It will make the city a year round destination, as once CED SkyGRID grid is fully connected. The increase in GDP alone will make the modest construction cost insignificant.
This is therefore a form of sustainable transportation, which also improves the health of its citizens and visitors by encouraging walking. It will reduce traffic congestion considerably, and improve safety for pedestrians that normally cross roads. We believe such structures could be made to be very elegant and in keeping with the modernizing landscape, in contrast to the typical designs that are adopted.
A network of elevated walkways projects a visionary idea for sustainable urban design in the future

Related Projects